Our Team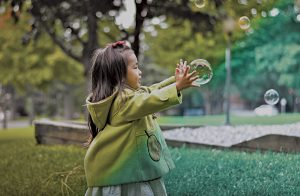 Our TEAM has been carefully chosen for their expertise, training, and for their sensitivity to the individual needs of the young child. All team members are required to have 20 hours of annual training, along with a Child Development Associates Credential (CDA) or be in the process of receiving, a CDA.  All team members are screened with the central registry for child abuse and neglect and criminal background checks.
The ratio of childcare professionals to children is as follows:
4 weeks to Mobile- 1 caregiver to 4 children (At times at State ratio of 1 for 5 children)

Mobile and 2 year-1 caregiver to 5 children

3 years to 5 years -1 caregiver for 10 children
---
Owner/Director
Amie Ray
My name is Amie Ray, the owner and founder of Leap 2 Learn Educational Childcare. I was born and raised in Rapid City and graduated from Rapid City Central High School in 1999. I am a mother of 2 amazing boys, Mason and Kolin, and a wife to my loving husband, Adam.  I received my Bachelor of Science in Education degree from Black Hills State University and my Master of Arts in Teaching degree from Grand Canyon University. I have continued my education on all aspects of early childhood education and stay up to date on the latest developments of what drives children to learn. I have educated children from birth to age 8 in general and special education for 12 years. It always remains important to me to put the child first and ensure families stay involved.
I also enjoy being at the lake with my family and watching sports, as long as my children are playing :).
---
Assistant Director
Bobbi Wipf
Bio coming soon
---
Administration Assistant
Deb Geske
My name is Deb Geske, I Graduated from Black Hills Beauty College and am a Cosmetologist and Nail Tech at Trendz Salon, with 30 years of experience.
I previously owned Action Auto Repair with husband Terry for 20 years, where I gained experience in accounting, computers and customer service.
I enjoy family time with husband Terry, daughters Lori and Amie, son-in-law Adam, 3 grandsons Mason, Kaden, Kolin, 1 granddaughter Leah.  In my spare time, I enjoy baking, cooking, crafts, friends, gardening and motorcycle riding with my husband.
---
Specialist
Connie Tucker
Strong Family Values, Efficient and Organized, Prioritizes Health and Exercise, Positive Perspective, Fueled by Faith, Well Developed Time Management Skills, Energetic, Love and Concern for Children
Strong Family Ties, Innate Concern for Others, Conscientious Listener, Articulate, Knowledgeable, Resourceful, Strong Work Ethic, Kind and Compassionate, Outgoing, Multi-tasker, Parent and Student Advocate
Please Understand: When you share a concern with me it is in my nature to offer my help or feedback. *The more that is asked of me, the more I value and need brief social interactions with friends and co-workers. *I believe that we should say what we mean and mean what we say.
How to Support Me: Listen and Offer Feedback, Value my Time and Ideas, Work Without Complaining, Show Compassion and Exercise Caution before Placing Judgment, Share Concerns without Condemning and Offer Help
Important to me: Adventures with my Husband (Motorcycle Rides for 'Get-aways'), Time with Children and Grandchildren, Family Get-Togethers, Fellowship with my Church Family, Companionship of Pets, Calming effects of Rain Storms, Health and Fitness, Being Appreciated
---
Classroom Teachers

Carlys HighBear
2 yr olds Leapsters
---
Classroom Teachers
 Karyssa Burton
Infants Tadpoles
---
Classroom Teachers
Jessica Goodall
Pre-k Mudpups
---
Classroom Teachers
More Teachers Coming Soon!
---
Classroom Teachers

More Teachers Coming Soon!
---